The Art of Moving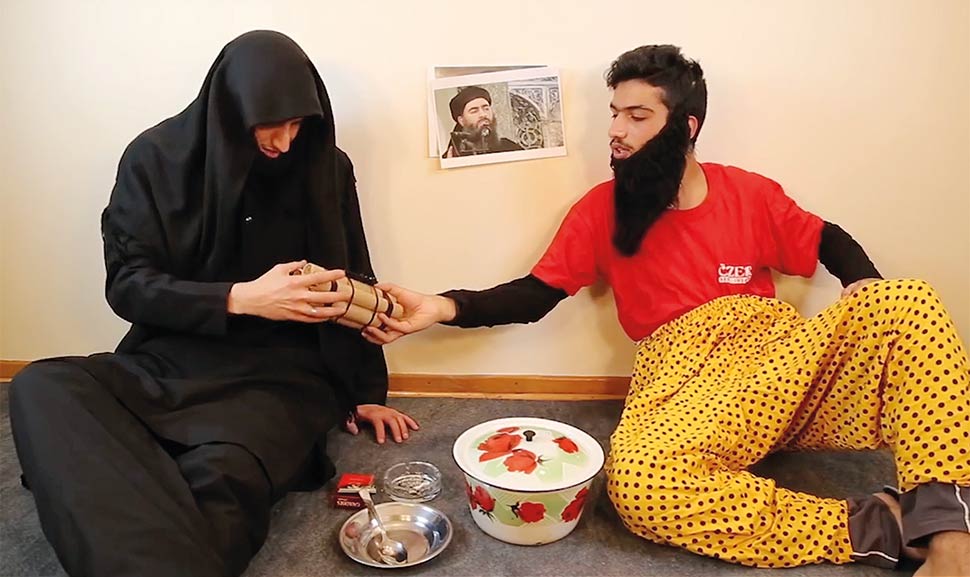 Vier syrische Freunde haben sich zu der Video-Gruppe "Daya Al-Taseh" zusammengeschlossen und produzieren und veröffentlichen satirische Anti-IS-Videos in Gaziantep, einer Stadt im Südosten der Türkei, nahe der syrischen Grenze.
Trotz täglicher Drohungen und den Herausforderungen, ein möglichst unauffälliges Leben zu führen, verliert die Gruppe nicht den Humor, um ihre gefährliche Arbeit fortzuführen. Nachdem die Drohungen von offensichtlichen IS-Unterstützern in der Türkei konkreter wurden, zieht die Gruppe nach Istanbul in der Hoffnung, dort besser arbeiten zu können und etwas größeres, nämlich eine satirische Nachrichtensendung, die in einem syrischen Sender ausgestrahlt werden soll, aufzubauen.
Doch unerwartete Ereignisse in einer immer unsicherer werdenden Türkei zwingen jeden einzelnen von ihnen, Fragen nach Sicherheit und Freundschaft neu zu stellen. Sie müssen entscheiden, wie und wo sie ihre Arbeit weitermachen wollen.
Trailer:
Dokumentarfilm 2016, 88 min., arabisch, türkisch, englisch UT
Buch & Regie: Liliana Marinho de Sousa
Kamera: Orçun Bilgin, Mehmet Eren Bozbaş, Koray Kesik
Schnitt: Liliane Marinho de Sousa, Nicole Schmeier
Produzentin: Zülfiye Akkulak
Förderung: Medienstiftung NRW, FH Dortmund
Festivals:
33. Kasseler Dokumentarfilmfestival- Weltpremiere
19. Stranger Than Fiction Dokumentarfilmfestival 2017- NRW Premiere
DOCFEED Film Festival, Niederlande. Nominiert für "Best Int. Feature Documentary"
BBC Arabic Film Festival London, England
36. Istanbul International Film Festival, Türkei
46th International Student Film Festival, Osnabrück. Nominiert für "Best Production"
European Media Art Festival 2017
Human Rights Human Dignity International Film Festival Mynmar
10th Istanbul Documentary Days, Türkei
8th Jagran Film Festival, Indien
9th Pristhina International Film Festival, Kosovo. Nominiert für "Bester Dokumentarfilm"
Melgaço International Dokumentarfilmfestival, Portugal. Nominiert für "Jean Loup Passek Award"
41th Sao Paulo International Film Festival, Brasilien. Nominiert für "New Filmmakers Competition"
Astra Film Festival, Rumenien. Nominiert für "Best Student Documentary"
21th Arab Film Festival, San Francisco, Los Angeles, USA. Nominiert für "Best Feature Documentary"
5th Dohuk International Film Festival, Iraqi Kurdistan. Nominiert für "Golden Leaf Award".
Mostra Viva del Mediterrani,Valencia/Spain
8th HumanDOC International Documentary Film Festival, Warsaw/Poland
London Migration Film Festival, UK
Preise:
Bester Dokumentarfilm – BBC Arabic Festival 2017
Bester Dokumentarfilm "Golden Leaf Award" – 5. Duhok International Film Festival