The Art of Moving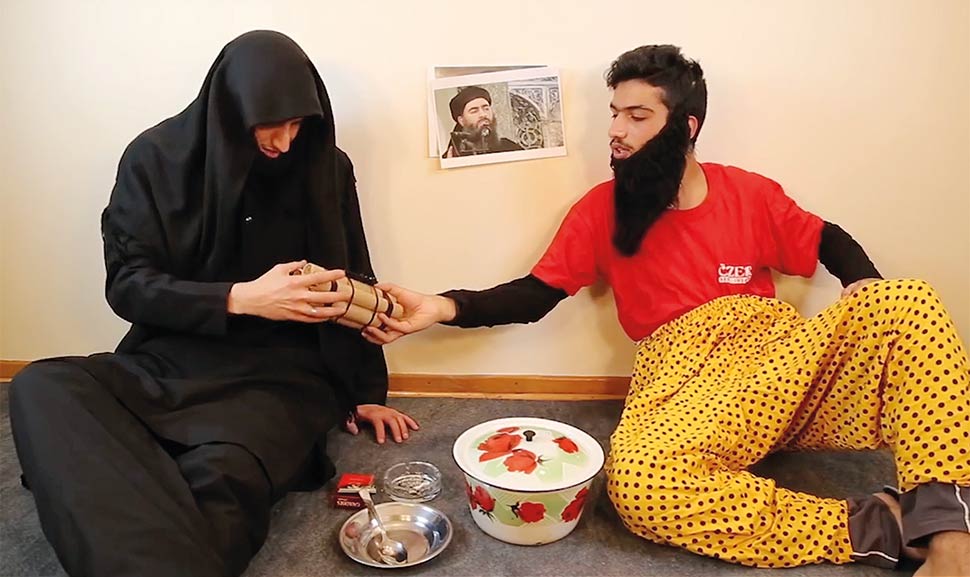 Daya Al-Taseh is an anti-IS satirical web series created by a group of Syrian videoactivists. They produce the episodes from their base in Gaziantep, Turkey.
After receiving threats from IS supporters they leave to Istanbul with the aim to broadcast an improved topical-comedy show for Syrian TV.
But obstacles keep arising in an already unstable situation, pressuring the group's work and friendships. They are forced to make decisions about the future of their activism and the possibility of stable life in Istanbul, or elsewhere.This film is a refreshing take on the refugee crisis, the encroachment of IS and the fateful choices left to Syria's youth.
Trailer:
Documentary, 2016, 88 min., arabic, turkish, english ST
Book & Direction: Liliana Marinho de Sousa
Camera: Orçun Bilgin, Mehmet Eren Bozbaş, Koray Kesik
Film Editing: Liliane Marinho de Sousa, Nicole Schmeier
Production: Zülfiye Akkulak
Funding: Medienstiftung NRW, FH Dortmund
Festivals:
33. Kassel Documentary Film/Video Festival – World Premiere
19. Stranger Than Fiction Dokumentarfilmfestivals 2017- NRW Premiere
DOCFEED Film Festival, Netherlands. Nominated for "Best Int. Feature Documentary"
BBC Arabic Film Festival, London, UK
36th Istanbul Film Festival, Turkey
46th International Student Film Festival, Germany. Nominated for "Best Production"
European Media Art Festival 2017, Osnabrück, Germany
Human Rights Human Dignity International Film Festival Mynmar. Nominated for "Best Documentary Film Festival"
10th Istanbul Documentary Days, Turkey
8th Jagran Film Festival, India
9.Pristina International Film Festival- Kosovo. Nominated for "Best Documentary Film Award"
Melgaço International Documentary Film Festival, Portugal. Nominated for "Best Documentary Film Award"
41th Sao Paulo International Film Festival, Brazil. Nominated for "New Filmmakers Competition"
Astra Film Festival, Romania. Nominated for "Best Student Documentary"
21th Arab Film Festival, San Francisco, Los Angeles, USA. Nominated for "Best Feature Documentary"
5th Dohuk International Film Festival, Iraqi Kurdistan. Nominated for "Best Feature Documentary".
Mostra Viva del Mediterrani,Valencia/Spain
8th Human DOC International Documentary Film Festival, Warsaw/Poland
London Migration Film Festival, UK
Awards:
Best Feature Documentary – BBC Arabic Festival 2017
Best World Documentary "Golden Leaf Award" – 5. Duhok International Film Festival